Adam List
Full Name: Adam List
Parents: Jean George List & Catharine Hilt
Birth: October 16, 1812, Alsace, France
Marriage: Apolumia Schantz, 02/15/1836, Fischbach, Ansbach, Bavaria
Death: December 24, 1883, Menominee, Jo Daviess, Illinois
Children:
Adam, b. 06/29/1838, d. 09/21/1891
John, b. 06/20/1841, m. 1871 (Walburga Mayer), d. 08/20/1917
Christopher M., b 02/14/1844, d. 05/26/1886
Jacob, b. 05/15/1847, d. 05/23/1916
Magdelina, b. 03/01/1850, d. 06/14/1914
Apolonia, b. 06/18/1851, d. 07/24/1915
Elizabeth, b. 1854
Records:
Family Tree: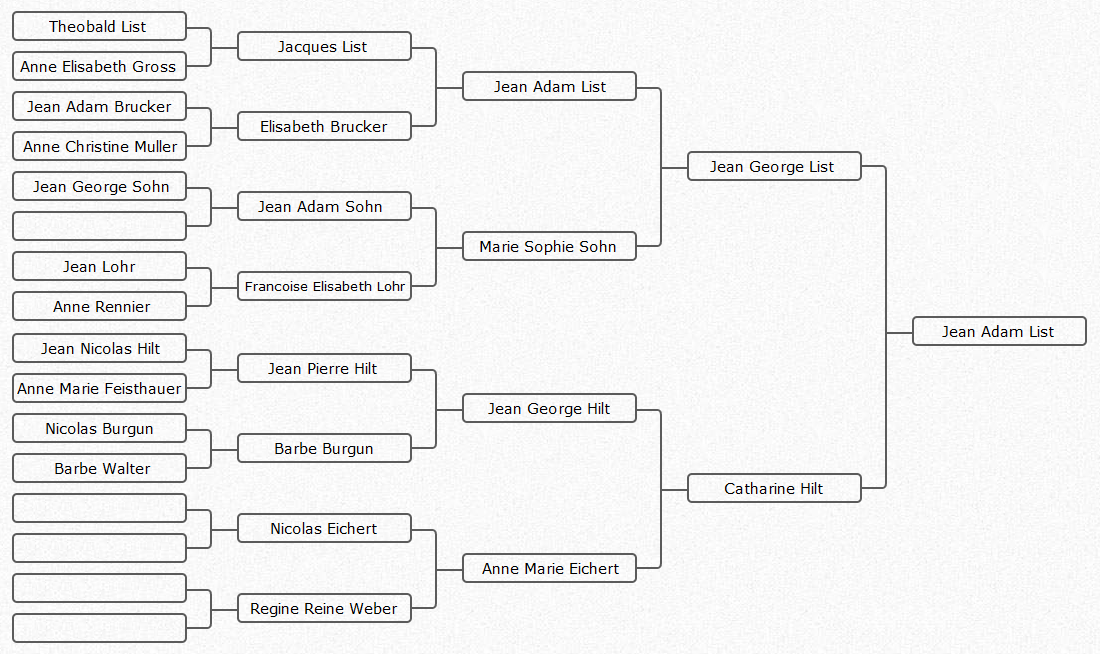 List Family History
Location:
The last known location of the List/Schantz family prior to immigration was in Fischbach bei Dahn, Bavaria. This is where Adam and Apolumia were married and their oldest two daughters were born and died. Althought the Schantz family was from Fischbach bei Dahn, Adam and Apolumia moved to France, possibly to Reipertswiller where the List family was from.
While little else is known about the List family, the Schantz family has a rich history of ancestors in the area. In addition to Fischbach bei Dahn, others were from Dahn, Erfweiler, Hauenstein, Wilgartswiesen, Pirmasens and Nothweiler in Bavaria/Prussia/Germany. There were others to the south in France as well, including some from Obersteinbach and then Windstein. Research is still being done to determine if there is a legitimate link to the Ostertag von Windstein royality.
The map on the left below is the northeast section of the country of France. The map on the right is the zoomed-in area where the List and Schantz families originated in France. (Click on image for larger view.)
Information:
Adam List